What does a deaf 12-year old girl and a whale that doesn't belong in a pod have in common?
Surprisingly quite a lot, as beautifully illustrated by by Lynne Kelly's 'Song for a Whale'.
Long story short; 12-year old Iris, who is the only deaf person in her school and family, learns about a whale called 'Blue 55' who is unable to communicate with other whales and is known as a lonely whale.
Since Iris could resonate with that, she went on a journey to see if she could find a way to "sing" with the whale herself to let him know that he is heard.
As expected, there is a heavy emphasis on deafness in this book with a touch of animal welfare too.
But the author has done really to make it relevant to others by also focusing on two main topics; loneliness and inclusion.
---
Official book summary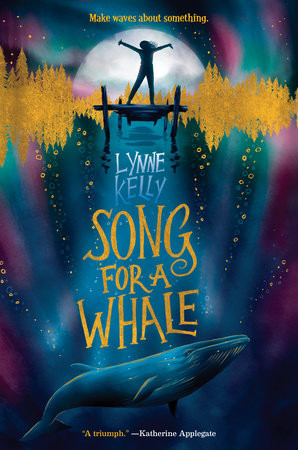 From fixing the class computer to repairing old radios, twelve-year-old Iris is a tech genius. But she's the only deaf person in her school, so people often treat her like she's not very smart. If you've ever felt like no one was listening to you, then you know how hard that can be.
When she learns about Blue 55, a real whale who is unable to speak to other whales, Iris understands how he must feel.
Then she has an idea: she should invent a way to "sing" to him! But he's three thousand miles away. How will she play her song for him?
Full of heart and poignancy, this story by sign language interpreter Lynne Kelly shows how a little determination can make big waves.
---
My personal review
The book is mainly targeted at middle-grade children; a genre of book which I rarely read but I do believe in going out of your comfort zone and reading something different now and then.
And for those who are based outside of the U.S, this is roughly between the ages of 8 and 12 (I had to Google that).
I found myself enjoying this book more than 'Deaf Child Crossing', which is also for young children too. That's not to say that the former is a bad read, but the author of 'Song for a Whale' has created a somewhat magical story when describing the journey of 12-year old Iris trying to connect with Blue 55 the lonely whale.
You're not just getting your heart-strings pulled because of just one character, Iris, but because of the whale too.
And boy does it make you feel sad at certain points of the book.
Some people might even feel more sad for Blue 55 than for Iris. She has a few friends and family (even though, they don't necessarily make extra efforts to understand her point of views). Yet Blue 55 is so lonely that it even tries to join a pod of other species outside of its own, just so it can feel like it belongs somewhere.
He even tried to get along with dolphins by playing and splashing with them briefly…before they disappeared since they "never stayed long".
😭
In fact, when I told my wife that I was reading this book about a deaf girl who wants to be friends with a whale who is lonely because nobody can hear its song, I thought she was going to cry on the spot.
(But then when I asked her to check this very post, the tissues had to come out.)
Linking deafness, loneliness and lnclusion
When you go through various sections of the book in the next paragraph below, you will understand more about the link between deafness, loneliness and inclusion.
The book may be primarily about a deaf person and features a protagonist who is a proud deaf person. But it can be relatable for anyone.
Have you ever being lonely? Have you ever missed anyone? Have you ever had your voice ignored or put down? Have you tried to be part of the group but couldn't?
You might be able to relate to the feeling of being lonely, but if you do not fit within the category of "deaf", it is very difficult for you to understand how they are heavily linked.
I think the book has done very well to illustrate that to hearing people.
I have talked about how there is a very close link between deafness and mental health in one particular podcast episode because on how loneliness is very common for many deaf and hard of hearing people's life…myself included.
Both Iris and Blue 55 share a common feeling; they want to feel included and be heard. But they don't feel like they are getting that. While there was nothing that Blue 55 can do, there is a bit of a determination from Iris to not allow anything to stop her from what she wants to do.
The way the book is structured, some of the chapters are written from the perspective of Blue 55 and what it's going through his mind, just for a couple of pages at a time. The rest and the majority of the book cover Iris' part of the journey.
That way, you can really dig deep in both of their minds and experience the bond that they never knew they had.
Favourite moments in the book
There are several sentences which really hit home for me personally.
From the perspective of Blue 55, these sentences are particularly poignant:
"One night, when we awoke to float to the surface for a breath, he found himself alone. After so much time, with so many songs unheard, his family had left him."

—
(Upon trying to join a pod of humpbacks he never met before…)
"Maybe he could join them. He approached from the side, swimming at the edge of the migrating. For a time, he would hang back, gliding silently alongside them."

—
He pushed back, swimming harder, until the dark swallowed him. The depths were emptier, darker, quieter. Yet less lonely, because there was no-one to answer his calls with silence.

—
(When playing with dolphins…)
If they could play like this every day, at least for a little while, he wouldn't be so lonely. But dolphins never stayed long.

—
And from Iris' point of view, these are just some of the points in the story which hits home:
"I didn't know how to answer him, how to explain that this whale swam in an ocean surrounded by other whales he couldn't talk to, that there was no pod or single whale who understood him – not even his own parents – and that I wanted to create a song that would let him know he wasn't alone."

—
"He keeps singing this song, and everything in the ocean swims by him, as if he's not there. He thinks no-one understands him. I want to let him know that he's wrong about that."

—
"I'd come all this way because I felt alone, and thought Blue 55 did too."

—
You can see how various aspects of the story touches upon on the impact on loneliness.
It is very clear.
It's real, and somehow, the author managed to portray from a human AND from a whale's point of view.
---
About the author and her link to deafness and whales
Formerly a psychology major, the author, Lynne Kelly, is a sign language interpreter and has been interacting with various individuals within the Deaf community for decades.
Throughout her career, she has learnt about the Deaf community and American Sign Language.
Lynne also did a lot of research on understanding how whale interacts, the way they "sing" and their frequency level, and how it all connects with deafness. The author's notes where she describes her research on whales is also very interesting and will give your further insights to the background of the story.
Combining all of those knowledge together seems to have fueled her inspiration to write this book and personally, I think she did brilliantly to connect all the dots together.
She also highlighted her own experience interacting with a number of Deaf people, particular with her surprise on how, unlike Iris, many of their family members don't know or barely knows any sign language.
In a way, these Deaf individuals are like Blue 55; they want to communicate but everyone is passing by without any forms of acknowledgement.
Again, she did a great job in tying everything together again in the story.
And you can also listen the podcast (transcripts included) where I interview Lynne Kelly and we get deeper into the book and the topic of deafness too.
Listen to the Interview with Lynne Kelly Here (Transcripts Included)
Overall, the book captures the feeling of being different and not belong very beautifully. It's not just about understanding what a deaf girl goes through in her world, but also provides many lessons for us about loneliness and inclusiveness too.
I don't think this book is just for those between 8-12 years of age, nor is it only for those who has an interest in the Deaf community. It is highly relatable for many people.
This is also a great book if you are an animal-lover, especially if you love whales, and also enjoy being by the sea.
Even though the book touches upon the topic of loneliness, I should point out that this is not a depressing book. Far from it! It's beautiful, it's funny, it's poignant, filled with determination and heart.
And there is one big lesson from reading this; never let anyone or anything define who you are and hold you back.
---

Latest posts by Ahmed Khalifa
(see all)