If you are looking for a fun graphic novel where the main character is deaf and it is suitable for all ages, 'El Deafo' is a book that you must pick up.
It is a funny, relatable graphic novel, which is loosely following the life of the illustrator, Cece Bell, about growing up deaf, going to school, trying to make friends and facing challenges.
At the same time, she is also using the inner superpower nicknamed 'El Deafo' after she was to be able to hear things that others couldn't because of her hearing aids.
I have decided to review this novel after finishing it recently and you can read more about it below.
---
Official book summary

Starting at a new school is scary, even more so with a giant hearing aid strapped to your chest! At her old school, everyone in Cece's class was deaf. Here she is different. She is sure the kids are staring at the Phonic Ear, the powerful aid that will help her hear her teacher.
Too bad it also seems certain to repel potential friends.
Then Cece makes a startling discovery. With the Phonic Ear she can hear her teacher not just in the classroom, but anywhere her teacher is in school — in the hallway… in the teacher's lounge… in the bathroom! This is power. Maybe even superpower!
Cece is on her way to becoming El Deafo, Listener for All. But the funny thing about being a superhero is that it's just another way of feeling different… and lonely.
Can Cece channel her powers into finding the thing she wants most, a true friend?
---
You can watch the book review in the video below (captions included) or scroll down to read the transcript:
Transcript
Today, I want to do a quick book review about 'El Deafo'.

Now I know I said book review, but it's actually a graphic novel and very well illustrated graphic novel as well.
And it's great, it's really actually quite fun. I finished it quite recently and it's a great book if you want to have a fun way to learn about a child going through school, primary school and trying to have friends, but it's hard to get used to the hearing aid and one of those old-fashioned hearing aid.
The thing is with this book is that it is written and illustrated by Cece Bell and the illustration and the storyline is kind of like a semi-autobiography of a Cece Bell's life grown up going to school, those big chunky hearing aids, but you have to wear it around the neck and the teacher had a separate microphone.
The idea is El Deafo is trying to be like a superhero in the girl's mind and the superhero is able to hear the teacher wherever she goes because she has a microphone on her and you could go to another room or go to the toilet and the person is able to hear that because she has one of one of those hearing aids, so she feels like a superhero, hence 'El Deafo'.

But it's not without the challenges because the girl…the girl? I don't know if the girl…they are rabbits really. So, girl…rabbits…?
The girl is also trying to build relationship and friendship with certain people it seem to have repelled potential friends. That whole hearing aid situation because she was embarrassed about it and a bit shy about it and didn't want to have that on display all the time and she was just not liking it at all.
So it was a bit of a tricky situation at that stage and the thing is from reading that, I felt like I was reading my own diary. I felt like I was going through the exactly the same thing because in school you want to fit in that just the way the nature of the game is. You want to fit in.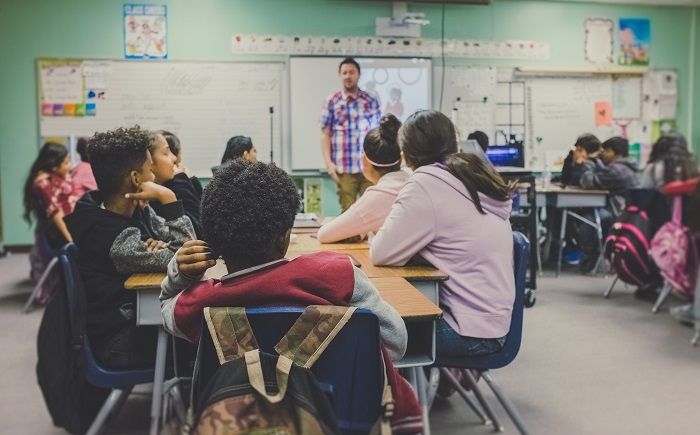 But it's quite difficult to do that when you stand out in a way that you don't want to stand out.
So for this character she's trying to do that. She's trying to fit in, but it seemed to have made difficulty in terms of getting to know people and people don't make fun of her or people don't really point out too much. That's the problem, people do that.
And then throughout the journey she trying to get through it and I'm not going to stay for the happy ending or not. You can work it out yourself, you can get yourself your own copy of 'El Deafo'. It is a great fun book. It's a great fun graphic novel.
I've never really read any graphic novel before in my life and it's a nice way to start and it's also a great book for it, just not necessarily for children. Graphic novels are for children, let's just get that out of the way.
But it's great for whether it's children, young adults, even adults themselves, they want to understand that journey for a young child, getting hearing aids on and going to a hearing school, not a deaf school, going to a mainstream school. And there are differences between the two and I've talked about that before.
And it's a great way for you to gain an insight of what can happen if you are a hearing person and you don't know how it works. And it's actually a very close representation of my own experience when I was going through primary school and to some extent high school as well.
So it's a great fun book, a really good fun and a really well illustrated and I'm not really sure why they are rabbits, but you know what? It's something different. It's all just rabbit as characters and it doesn't take long to read because obviously it's quite easy and fun to read.
So check it out, check out the link in the description down below and you can get yourself your own copy as well.

And even if you are a d/Deaf yourself you might get, find it very relatable. It's kind of comforting because not only yourself is going through this journey. Someone else has gone through as well. And it's quite comforting to know that it's not just you, it's everyone.
And some people may have said to you that "you're being silly" or you are just exaggerating" or "you're just being annoying about that", "get over it". But the thing is it's just stupid if you say that, it is stupid if you say that. And by reading this book and some others, you get an insight of another person's life and you realise you're not stupid at all. It does happen to more people than you think.
And like I said, from that book, I have gone through so many of those situations as well. What I'm also going to do is I'm going to share some more stories and insights of how I can relate to the book of 'El Deafo' and I'm going to do that on my Patreon page.
You can join and you can sign up from just $3 a month and there you can, not just support my work and help to get that message out there, but we can also have the conversation with me.We can get that connection going and just build a community where we also support each other through those barriers as well.
And that can apply to anyone who is d/Deaf or hard of hearing, but even if you're hearing yourself, you can also join in.
So check out the link below and join in and become a patron of Hear Me Out! [CC] (or watch the video below):
---

Latest posts by Ahmed Khalifa
(see all)