A recent documentary called 'Crip Camp' has brought light to a forgotten part of history in the U.S which started a revolution for disabled people to be treated as equals.
This is an empowering documentary, one that got me emotional, which really hits home on how hard disabled people had to fight to be treated as humans and equal to everyone else.
I've decided to do a non-spoiler review and shared my own thoughts on why you should watch it.
You can watch the review below…
…listen to the podcast…
…or read the transcripts instead.
---
The other day I have decided to watch a documentary on Netflix, called 'Crip Camp'. It's something that caught my eye because it was mentioned on social media and I know that it has been mentioned on a few film festival, as well.

It was interesting to me because it really talks about disability activist movement that was happening in the 70s from then on, and it was basically in the US and it all, kind of started from this camp.
It was very intriguing for me because, I am ashamed to say that I didn't know a whole lot about the movement and that's the whole of a documentary, is to bring that awareness of the forgotten history of disability movement and fighting for political change and fighting for equal rights and that was a documentary I felt, okay, maybe I could get some knowledge and then read more about it over time.
I decided to do a review of Crimp Camp and I'm not going to do any spoilers. Maybe they'll be a few things here and there that I will share with you but won't be spoilers because, overall I highly recommend that you watch it at your own time.
Don't forget that if you want to support this channel you can do so on my Patreon Page and I'll put the link in the description. You can do that, just a few dollars a month, and it also help me to create the content and to make sure that I make it as high quality as possible accessible as possible, and just to make sure to improve deaf awareness as well which is something that I'm very passionate about.
I've got no experience of going to a summer camp. I've been to a few events here and there as a kid that last for a week, not necessarily a camp you go away but maybe like an activity for a week, in the same town that I lived in.
I have no experience about that I don't know what is it like, but because of a lot of movies I've got an idea of how it works.
So, Crip Camp is really about that Camp Jened, it's what it's called. I think it started in the 50s and it had to close down in the late 70s.
But, it's just like any other camp. Loads of teenagers that come and get together from different backgrounds, and different nationalities, different situations they're in.
They all come together in the camp and tend to be about a topic, maybe it's about activity, maybe it's for sports, maybe for whatever reason. And, that was the idea.
But Camp Jened was different because, the people who attended there were all disabled, variety. And, a lot of them, from what I've seen in the documentary are wheelchair users.
That's all I can visibly see because, there are obviously others that would have hidden, invisible disabilities that we're not aware of.

So, that's the only thing different about Camp Jened I'm sure there are other camps like that in the U.S. and probably across the world. That is there to be helpful, and accessible and catered for people with disabilities. Especially those, what looks like, mobility/wheelchair users.
So that was the whole story of it. It starts there and people get together, and just like any teenager, again it's a way to get away from the parents.
You don't have to be overprotective or over caring and this is the story that some of them were talking about in the documentary. That, it was nice to get away from parents who have good intentions but they were overprotective and it felt like they were being held back sometimes.
They wanted to be able to do things like everyone else, and rightly so.
So, the camp is just an opportunity for everyone to just be free but also around people who are just like each other.
That's a hard thing to find if you are disabled and you live, maybe in a small town or a small city or you're not exposed to that environment, you haven't been brought up in that environment.
You don't get exposed to other people who are facing the same challenges as you and that makes it quite hard sometime to understand who you are, as a person.
I'm speaking from experience, because that's something that I've never had when I grew up. I was not exposed to a lot of people who are deaf or hard of hearing. Sometimes I wish I had been brought up like that but, other times you just go with the flow. You just go with that direction until you find it in your own way.
Anyway, back to the documentary. The whole thing is that in this particular moment in the documentary, in the 70s, there was one particular summer where, as usual everyone gets together, they have conversation, they talk about it.
But, then started to become more political and more empowering, because that was a moment where they decided, "you know what, I'm fed up of being treated like a second-class citizen and I don't want to do it anymore, I'm tired of it", everyone agreed and then you empower each other. You feel more motivated to do something about it.
And, there are a number of individuals there who decided to do something about it and one in particular, Judy Heumann, and she was a counsellor in the camp.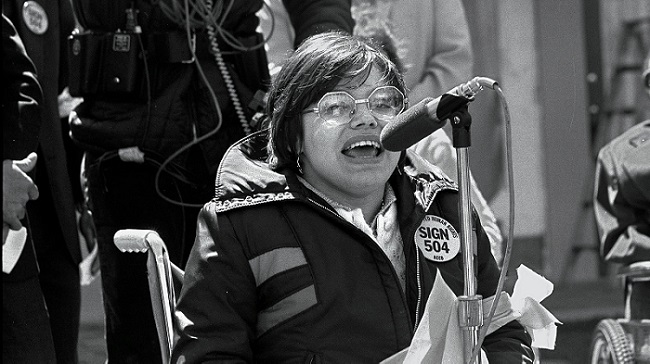 She's also a wheelchair user, and she became one of the main activist, but she's not alone. She had a lot of people around her, but she became the centre of figure of the documentary along with a few others.
She began to be vocal about it. It really started when she decided to sue New York because they didn't want to give her a licence to be a teacher and that was like, "no, that's not going to happen".
She decided that's not fair, I'm going to go for it. That when people started to get the ball rolling because in the beginning, it was tough. They were rejected. People were not listening to them and it was just not seen as important enough.
You can imagine back then in the 70s, most of the time, there are very little accessibility that we have right now. Right now we have more, it's not enough, we need even more. But I'm talking like lifts and escalators.
There were talks, in the documentary about how it's going to cost too much money to put lifts in certain situations or to remove steps, or to allow other ways to enter a building. It was, like "not worth it". "It's just too much money, so forget about it".
That just made people more just get more energy, more riled up and more determined to do something about it. Because, it was a moment where they thought, no, enough is enough.
So, the first half of the documentary was mainly based at the camp. You see lots of black and white footage's of loads of activities, people getting together, people talking about their experiences and sharing their own thoughts.
You get to see that and it builds up to that story. It's like an incremental step to what the second half of the documentary is about, which is the whole activism that happened and what they actually did.
But it was really nice to see those moments of the camp and people getting together, people laughing, people angry, people frustrated, people happy. Loads of emotions like you get, probably in most camps because it's a time to reflect, it's a time to think about it.
Especially when you are with people who are in the same situation as you, you get to think about things. So, that was a nice moment to watch and gradually you build it up to the actual activist movement, the disability rights happening.
And it was really interesting to see, it was really amazing because I was not aware of the 504 sit-in movement. It was mainly around the 25 day sit-in at the San Francisco Department of Health, Education and Welfare, that was in 1977 and that was a moment where they pushed hard for that right, equal rights.

For people who are disabled and that became a big thing. It rolled and rolled and rolled and it really, really was amazing to watch. I don't want to go to much detail about the actual legislation of that sit in.
So it's called the 504 because there is a section 504 of a law that they wanted to make sure that's it's going to implement it and this is where, in 1977, they demanded federal regulation to guarantee civil rights for the disabled.
That was the moment where thought, this needs to happen. It also became kind of a catalyst to the disability acts as well in America and that was a turning point as well.
Again, not a solution because it doesn't mean that it provides everyone the solution that they're looking for because it's still ongoing, even today, it still needs to be implemented.
It still needs to be done better, because you can kind of get away with it but, again, that was the moment where people really started to be vocal about it.
And even from my own personal perspective, I got emotional. At first, I was confused. Why am I getting emotional? Because, really, the big focus of it was for those who are wheelchair users. That was the main, main focus but then, there were obvious signs of sign language interpreters.
Obviously, deaf and hard of hearing people there as well and, they were brought in now and then. Especially during times where they needed to communicate from afar.
For example, inside a building where they're doing a sit in communicating with someone outside. It was quite funny to see that, as one person said, "I can communicate".
And, it's basically signing from inside to outside over long distance. That's the benefit of sign language I suppose.
I got emotional, I think it's because, I understand. I understand the constant barriers and fights and frustration and being treated second class.
I can get that feeling but at the same time I was confused because I shouldn't feel sad because I do have certain privileges that they don't have.
For example, I'm not a wheelchair user so I don't have those issues that they will face. I'm not profoundly deaf so I don't have the same issues that they will face so, at times I thought I should not be emotional because I don't think it should affect me and I don't think that I will benefit from it.
But, in a way, I am. I think it does make sense for me. I can relate to all of the things that they're talking about. It was very empowering documentary and it's just really good to watch.
I don't want to say that it's like, a feel good factor because there's an element of people who will be thinking where it's like, inspiration porn and it's not about that.
It's an important part of history where it was a moment that they needed to change the opportunity to have equal rights for disabled people. At least, that was in America, but it was a forgotten part of history that, to be honest, I just didn't know about.
So I'm glad I watched it. I recommend that you watch it. You can watch the trailer below. You can watch that and give you a feel of what it's about. But I do recommend you watch it on Netflix.
It has been picked up, gradually in the Sundance and different film festivals and then it has been picked up by the Obama's who were involved in producing it.
The good thing, as well, it was disability led. So, the people behind the scenes producing it were also disabled. At least most of them were, anyways.
The right people were involved, even those who were at the camp and were involved in the movement. They were heavily involved, whether it's behind the scenes or during the interview itself. So that was a very important part.
I recommend that you watch it, really you should do that. If you get a chance, I would love to know what you think in the comments. It'd be great to see other peoples thoughts about it because I really enjoyed it. It was very, very good.
Hopefully, it will also make you think about, there are people doing things in the background that we didn't know about but, at the same time, I want you to be aware that it doesn't mean that everything is perfectly fine in the world, because there are a ton of accessibility problems in the world.
But let's hope that we are going in the right direction.
Let me know what you think if you watch it, I'd love to hear your opinion.
Don't forget, as well to subscribe and like to make sure that you want more of this kind of content. It would be great to know your thoughts on it.
In the meantime, I will speak to you again soon.
Take care!
---

Latest posts by Ahmed Khalifa
(see all)