Did you know that tiredness and fatigue is a common issue for deaf people, regardless of how mild or profound their deafness is?
The issue surrounding concentration fatigue is not something that is immediately obvious to anyone and it's certainly not a topic that you'd normally associate with deaf people.
But it's a common situation and occurs when deaf people can find concentration hard work, to the point where you are so mentally tired, that they can't concentrate anymore.
As someone who knows exactly what that feels like, I can tell you that it sucks.
But it's important to get an understanding of what is it, what are the side-effects and how can you deal with it…whether you are deaf or not (as you can still make it easier for deaf people to deal with it).
You can watch the video below or scroll down to read more:
---
What is Concentration Fatigue?
Concentration fatigue is a term used when your brain's inhibitory attention mechanisms are working extra hard and it is caused when a person finds concentration hard work.
The average deaf person will have to use various attention mechanism in order to interpret and eventually understand what is said because they have to pay more attention than a person with typical hearing levels because they have to use up more of their brains' resources when listening and lip reading.

There are many stories of deaf people going through bouts of concentration, and one person who has explained it well is Ian Noon in this blog post, and the following quote is a good example of what it feels like if you want to get an understanding of what it feels like:
"Processing and constructing meaning out of half-heard words and sentences. Making guesses and figuring out context. And then thinking of something intelligent to say in response to an invariably random question.

It's like doing jigsaws, Suduku and Scrabble all at the same time."
If you are learning a new language, you may understand how this feel. When you are listening to someone speak in the language that you are learning, you are then translating it to your spoken language in your head, and then you instantly work on translating your reply to the language you are learning.
This all happens instantly, but it can make you tired, especially if you are still learning the language.
The side-effects of Concentration Fatigue
According to one particular study:
"…children suffering from recurrent fatigue tend to miss more school (for reasons unrelated to physical ailments); are at increased risk for poor academic performance, making them less prepared to advance; and are more likely to fail a grade than their nonfatigued peers."

Horby et. all, 2015
It's worrying enough for parents that their deaf children face barriers during their day-to-day lives. But it is also another thing to worry about if those who are school could fall behind academically, simply because concentrating on hearing, lip reading and interpreting is hard work.
There are various other side effects too:
1. You feel like having a nap – I'm not one to take naps, but there are times where all that concentration meant that you want to take a quick power nap to get your energy back up.
2. Headaches can come and go – your brain is working hard, so it's natural that headaches can come, especially if you haven't taken a break. This is a challenge because when you are in the zone at work, you forget to take a break. And when you get a headache, it's a reminder for you to take a break.
3. People think that you don't sleep enough – because it's not obvious to everyone apart from you, people are quick to judge you that you are not sleeping enough and tells you to do something about that (something which happened to me before).
4. You zone out in your own world – this is the moment when you feel like you hit a brick wall. Your brain is switched off and you stare at a blank space, sometimes without even realising it.
5. People think that you are being rude/lazy/selfish – it's hard to focus when you are tired. So it's natural that you unintentionally don't listen to the other person because you have zoned out or you are suddenly tired from concentrating. And as a result, you give off the impression that you are being rude/lazy/selfish.
6. Important information can be missed out – this is evident when someone is talking. And you don't have to be fatigued, as you can be zoning in and out just because you were tired for a moment. And as a result, you missed out on something…and you don't know what.
7. FOMO can happen – it's not uncommon to avoid going to social events because the fatigue has kicked in. You are so desperate to go out, socialise and just have fun. But the fatigue can be a big one and you might either not go to social events or you leave early because you can't cope.
8. You may experience 'deaf anxiety' – a topic that not many people talk about is 'deaf anxiety'. This is when a deaf or hard of hearing person have gone through a moment in their lives which has triggered anxiety as a result of their inability to hear. And it's not a nice experience either.
Deaf Anxiety
What is it & Why We Need to Talk About it More Often?
How to deal or help those with Concentration Fatigue?
There are several things you can do to help deal with concentration fatigue:
take regular breaks throughout the day
go for walks and breathe in some fresh air
drink lots of water and keep yourself hydrated throughout the day
try to be in environments where the background noise is low
be alone in a quiet space if you need to (and take off your hearings aids if you are wearing one)
use subtitles or closed-captions where possible when watching TV programmes, videos, movies, YouTube clips, etc.
communicate in areas with good lighting to enable lip reading
provide options of a hearing loop system (or audio induction loop), a special type of sound system for use by people with hearing aids
be aware of those who needs to space to recover
try to be open about it to other people about how you are feeling
when choosing a place to sit, seat yourself close enough to the speaker/lecturer/teacher/instructor
My personal Concentration Fatigue story
I am no different to other deaf people as I regularly go through bouts of concentration fatigue, particularly towards the end of the day.
You can imagine a typical job or task where you tend to do them during the day and then wind down in the evening.
But there are cases where it can happen earlier on during the day, especially if you are listening to a person speaking for a long period of time.
For example, I may have gone through a number of meetings or video calls during the day at work, which required a huge use of energy to focus and concentrate when communicating with hearing people.
Most of my phone calls tend to happen during the day, which requires a huge amount of attention and focus for me personally, as it is challenging enough as it is.
It may not be a surprise to you that I am at most productive early in the morning when I feel refreshed and have the most energy.
But depending on what I do during the day, the fatigue can kick-in quickly and sometimes unexpectedly.
This was a challenge during my school and university times. During the day, there is a lot of focus and concentration trying to interpret what the teachers and lecturers are saying, as well as communicating with fellow students, which tends to happen in noisy environments.
And that meant more energy is required to focus on what they are saying.
By the time you get home, you feel tired. But you can't rest or stop. No, no! You still have homework to do, essays to write and studying to do.
Or maybe you have to get ready for your part-time job, which meant that you have to muster up enough energy to get through the rest of the day.
During high school and universities, I have worked in restaurants, events like music concerts and football stadiums, and at leisure centres. They each require interacting with people which meant even more concentration required, and in a noisier environment.
And it's not necessarily during work-related situations where you feel tired. Even though social events can eventually knock you out.
Imagine if you are a restaurant, bars or special occasions like a wedding. They tend to be noisy and loud. Communicating in these environments will naturally require more resources from my brain.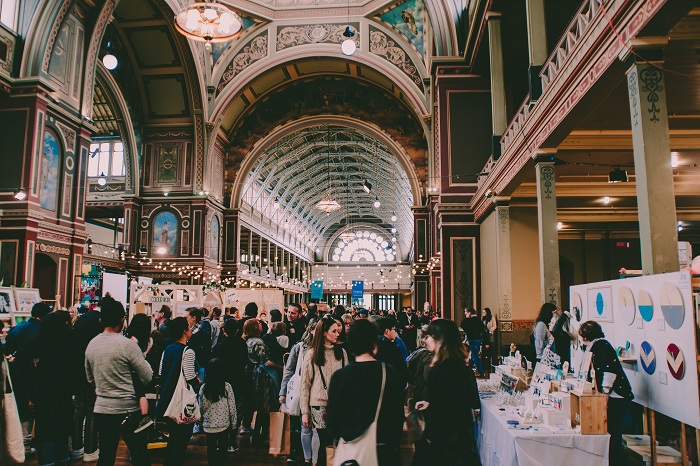 Going to conferences is hard enough. You spend all day learning, focusing and listening. For most people, you tend to feel tired by the time it ends. But is even more so for those with less than average hearing.
The brain's cognitive resources have quickly run out of steam.
And like any traditional conferences, there are social events before and after it ends. Again, they tend to be held in very loud environments, which is never ideal.
But again, you (somehow) muster up enough energy to attend and make the most of engaging with fellow attendees.
There had been times where I have left these social events simply because 1) it is impossible to communicate with anyone, and 2) after using up a lot of energy during the conference, you then force yourself to concentrate even more during the social events…until you hit a brick wall and you have to go back home or to the hotel.
And it's mainly why I don't last all night (that, and I'm not as hardcore as other people).
Some people have mentioned that learning and speaking sign language is the "cure" for this because you won't have to concentrate as much as other people, particularly those who lip read.
I've started my own quest to learn BSL for my own personal reasons, but I know that it's not for everyone. Not everyone wants/needs to learn sign language for whatever the reason, and I think we should respect that everyone has their own needs.
If you do learn sign language (and there are many benefits to doing that), you will enter a whole new world just like when you learn any language.
But regardless of whether I do learn sign language or not, concentration fatigue will exist in some form.
So concentration fatigue is a thing, but it's not that obvious.
I am pretty certain that those who are reading this and knows me personally does not know that it happens to me almost on a frequent basis.
(So if you see me looking zoned out…now you know why).
Even though it's not something that can be cured, it can be dealt with better and made easier.
If you are hearing and you want to understand better about concentration fatigue, next time you feel like you are tired after a hard day at work, or after a long conversation, or even at social events, think about how deaf people can be even more tired than you if placed in the same situation.
And if you are deaf, remember that you need to make it easier for yourself if you find it hard to focus.
Be kind to yourself.
---

Latest posts by Ahmed Khalifa
(see all)