Even though video calls and events have been around for many years, the pandemic has forced many organisers to consider making their events, which are normally offline and in-person, as a virtual event instead.
Conferences, meetings, lectures, workshops, performances…they are all affected.
For those who have managed to make it virtual, the general consensus is that it's not as bad as they first though.
But one common oversight for many event organisers is ignoring or dismissing the importance of making the events accessible (in this case, for deaf attendees), and I have expressed my frustration on non-deaf accessible virtual events.
---
Who can benefit from deaf-accessible virtual events?
The obvious answer would be deaf attendees.
But I genuinely believe that most, if not, all attendees will benefit from the tips that are listed below. For example:
who wouldn't benefit from clear and high quality audio sounds with no background noise when speakers are speaking?
who wouldn't want to have the option of reading video captions if they don't have headphones to listen with or need to watch in silence?
who wouldn't appreciate being able to read the transcripts of the talks if they don't have time, couldn't attend the event or just want a quick scan of the talk?
If you focus on deaf attendees, you will be surprised on who else will benefit and enjoy the experience of attending your accessible virtual events.
And in case you haven't realised, you as an event organiser will also benefit from organising and running deaf accessible virtual events. It can benefit so many people without you realising it.
So let's get started on how you can do that.
---
Tl;dr – How to plan ahead, organise and run deaf accessible virtual events?
1. Before thinking or starting to organise the virtual event…
2. While organising and preparing the virtual event
4. After the virtual event has ended…
---
1. Before thinking or starting to organise the virtual event…
If you start thinking about the following steps before even thinking about starting to organise and preparing the event, you will save yourself a headache in the long-run.
1.1 – Consider where and how you are hosting your event online
With the so many video platforms out there like the simple everyday video platform tools like Google Meet and Zoom to the more complex and expensive ones like StreamYard and GoToWebinar, we are spoilt for choices.
But this also makes it all the more difficult to pick which one to use.
When choosing a platform, consider how easy it is for attendees to have accessibility options and the process of connecting to videos when they attend your events.
1.2 – Ensure that stable internet connection

Nobody can run any sorts of online event if their internet connection is weak. It's impossible to ensure guarantee but it is up to the event organiser to limit any issues with connections when using the video platform of your choice and with the speakers and moderators.
Not only this will connection issues make the viewing experience more unpleasant for all attendees, but for the deaf attendees, poor internet connection will also result in poor quality audio and captioning.
Without either, it is pretty much impossible to access the content and enjoy the event.
1.3 – Create a diverse event organising team or reach out for assistance
Having a diverse team will allow you to have better insights on the needs and requirements of different attendees, and to be better placed to cater for them. This applies to various areas such as gender, ethnicity, disability, etc.
If a diverse team is not possible or if you are a one-person team, consider reaching out to someone you can trust who will know what they are talking about and can offer advice. This could be someone who is a volunteer, someone who is part of your community, or someone in your network who knows someone who knows someone, etc….
The moral of the story is, have the right representative around.
1.4 – Consider having deaf awareness training
You can do all the reading articles and watching videos you want, but nothing will replace having someone with the knowledge and experience training yourself and your team about deaf awareness via workshops.
Not only will you learn a lot, but this will also be a rare opportunity for you to ask questions to the trainers that you never had the opportunity before. In my experience, some attendees don't have the opportunity to ask important questions about deaf awareness because of either
they never had the opportunity to ask someone
they don't know or not aware of anyone who is deaf
they fear of offending someone
When done right, a deaf awareness workshop is a safe haven and your awareness will reflect to the event.
1.5 – Understand the wide spectrum of deafness

It's common for many people to have a typical perception of what is a deaf person. In most cases, it is perceived as someone who can't hear anything. But the topic of deafness is a huge one. It can cover many areas and have the ability to affect a wide variety of people in different ways.
For example, some people might prefer to call themselves "small d" deaf or "capital D" Deaf.
Some people prefer to be called deaf and/or hard of hearing.
Some people are deafened or late-deafened, or even deafblind.
The word "hearing impaired" is used often, but some people detest that terminology.
Even on this site, talking about the definition of "deaf" is a complex one. You don't need to know the finder details, but having an awareness can go a long way.
1.6 – Factor the cost of having professional live-captioning and sign language interpretation
Online platform…ticketing platform…audio equipments…check, check, check.
But when it comes to taking into account of professional live-captioning team and/or professional sign language interpretaters, it is rare for event organisers to even allocate that into the budget (both for in virtual and in-person events).
For small local meetup that does not charge attendees nor receive sponsorship, it may be difficult to allocate those cost and understandably so. But you can still work on understanding deaf awareness to be better equipped to cater for your deaf attendees.
There are some decent (but not perfect) online live-captioning tools that you can use for free like Web Captioner. It won't give you all the solutions, but if the audio quality is good, internet is very stable and there are no background noise, it is a good option to have.
By recording the event, this is also an opportunity to create more content about the event by creating transcripts and blog posts around the video (just don't forget to caption it).
But for larger events which charges attendees, it is wise to budget for accessibility options too. And if you think about it, if people are aware of the accessibility options, they are more likely to attend, thus will help you to sell more tickets and make it easier to cover the cost.
1.7 – Consider the option of having the event recorded
Since the event is virtual and you are using an online platform, there is a very good chance that you will be able to record the event with ease too.
This is a great opportunity for any attendees to rewatch the virtual events or give opportunities for those who are not able to attend on the day to watch it another time.
---
2. Whilst organising and preparing the event…
Now that you have thought about what you will need to do before you start physically organising the event, let's look at what you can do to make sure that you incorporate accessibility for deaf attendees along the way.
2.1 – Offer the accessibility options upfront for all attendees
When attendees are looking to purchase tickets to attend events where food is provided, it is common to see dietary requirements to be met on the purchasing form (vegetarian, vegan, halal, kosher, etc.).
Yet, it's not as common to see the same for accessibility requirements (regardless whether it's for deaf attendees or otherwise). Providing the options will give you an opportunity to gauge the level of interest and how can you best cater for them.
If it's not possible to provide options, you can always give attendees the opportunity to express their requirements instead…
2.2 – Give attendees the opportunity to express any additional requests that were not covered
You can make as much effort as possible to cater everyone, but you may unintentionally forgotten a few more requirements.
Rather than ignore it or worry that you have disappointed your attendees, ensure that all attendees are given the option to express further requirements when they are purchasing their tickets.
Even having a simple text box on your purchasing form that can go a long way to ensure that you are listening to your attendees. Just make sure that you will communicate with them to check how you can best help them.
2.3 – Provide detailed information about the event
All attendees will benefit from having detailed information about the event in advance so that they can plan their time. For example
what is format of the event?
do you have a timetable available?
what topics are going to be discussed?
who will be speaking?
how long will each talk take?
is there going to be an "after-party" equivalent event?
These are information that everyone will benefit from having at their disposal. For deaf attendees, it is easier to have them ready in front of you instead of listening out for them.
2.4 – Provide clear and detailed step-by-step directions on how to get to the virtual event and how to use the platform
Every video platform is different and have their own rules on how to create virtual event that can cater large number of virtual attendees. But never assume that everyone will know how to use them. You will save a lot of headache in the long-term if you provide directions in advance to all attendees.
If you are providing video guides on how to attend and use the platform, don't forget to caption the videos and ensure the audio and visual quality is clear and easy to understand.
Also consider turning that video into a detailed, structured and easy-to-follow post too by having converting the captions into transcript and making use of annotated images to guide the attendees too.
2.5 – Avoid using complex jargon
It goes without saying that using simple and understandable language is preferred over the use of complex words and sentences. Everyone can benefit from this e.g. if it's not in their first language, it's easier to understand simple words.
But for deaf attendees, particularly for those whose first language is sign language, it is even more difficult for them to understand complex terminologies (FYI, oral language is not a direct substitute to sign language. The latter has its own grammar and syntax that cannot be replicated in oral languages).
You're not impressing anyone if you are trying to be intellectual with your words.
2.6 – Be aware of using ableist language and offensive words
When describing deaf attendees, be aware of how you are describing them, the tone of language you use and the words chosen which are deemed to be offensive e.g. mute, dumb, tone-deaf
Likewise, make sure that you are making deaf attendees (and deaf people in general) feel as included as possible when communicating with them…
2.7 – Be aware of comments that can demean or discriminate deaf attendees
This applies in all walks of life when interacting with deaf people, whether it's at virtual events or face-to-face meetings. But in the case of virtual events, if deaf attendees are unable to hear you, do not say "we'll tell you later" or "it doesn't matter" or anything of that nature.
Not only it is offensive to dismiss deaf people by saying that, but you are also implying that deaf people are not on the same level as everyone else so we don't need to know.
Don't forget, if a person couldn't hear what you are saying or for some reason, the circumstances is difficult (e.g. explaining a website URL or someone's address), make use of the chat section of platform that you are using.
More often than not, all video platforms will have a chat functionality of some sort where you can type in what is missed.
2.8 – Provide ways for attendees to send questions and comments
As mentioned above, the chat functionalities is useful in case of missed words and of course, for a general conversation amongst the attendees. The chat section is also a very useful place for attendees to send question to the speaker.
Certain video platforms also have two separate functions: one is for general chats, and the other is for questions only. This can help to make it easier for deaf attendees to consume the right content and offer direct opportunities to ask questions.
2.9 – Caption all videos that have being pre-recorded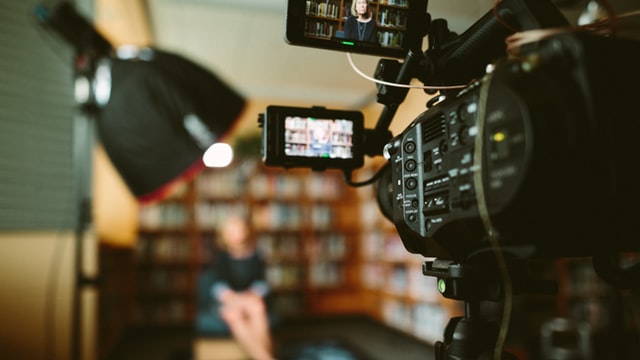 If you have any videos pre-recorded that will be displayed to the attendees, ensure that they are captioned accurately (i.e. don't depend on auto-captions).
For convenience, it is easier to have the captioned burned onto the video directly as open-captions to make the process seamless.
2.10 – Communicate with the sign language interpreters on the process and the format of the event
If you are planning to have sign language interpreters during the event, keep an open dialogue with them about the format and process of your event. This will allow the interpreters to have planned ahead and be better placed to deliver the interpretations accurately.
At the same time, always listen to what they have to say…
2.11 – Always listen to the requirements of the interpreters
Sign language interpreters will have their own formats that are not familiar to many event organisers. For example, on most occasions, an event requires at least two sign language interpreters to enable them to switch and share the roles together.
They will also explain how they ensure that they deliver to the highest of quality using little things that people don't think about. For example, many interpreters will have a screen behind to ensure that they are easy to see on the screen.
Qualified sign language interpreters should always be involved in relevant conversations and be treated professionally like you would do with any stakeholders in the event-planning process…online and offline.
2.12 – Ensure all speakers have headphones (and microphones if possible)
It is easy to assume that you can use the internal microphone and speaker from your laptop/computer when speaking online. However, you are guaranteed to have better quality audio for all attendees if the speakers are using some form of external headphones (and microphones if possible).
Let's say you are using the internal microphones and speakers within the laptop when speaking to anyone, there are several points to make:
the quality of the microphone is of basic quality. It will suffice for most people, but for those who are struggling to hear, it may not be suitable
when you are hearing the audio via the speaker, that sound emitted will automatically transmit back to the speaker too and diminishes the sound quality instantly to those on the other end listening in
When combining the two above, this will lower the quality of the audio for any attendees. To deal with this, having a microphone and headphone will automatically fix this. And it doesn't have to be super hi-tech and sophisticated set up, nor does it have to cost a lot of money. The easiest solution would be to have those hands-free kit that you get with your phone. Sure, it's not perfect but it's a great first step.
For many deaf attendees (myself included), having high quality audio will make the process of listening and consuming audio sounds so much easier. We already have to strain to listen, but if they audio quality is poor, that strain will lead to frustration and also tiredness because of concentration fatigue, which will then mean that attending the virtual event is a more strenuous activity than it should be.
2.13 – Advise all speakers to speak in quiet environment
This is another obvious one for everyone. On the one hand, it's to ensure that attendees can hear well. But on the other hand, this is also to ensure that captioning will run smoother, particularly if you are using automatic live-captioning (which is temperamental enough as it is).
The "beauty" of video conversations (for some) is that you never know what is going to happen. We have all seen or experienced scenarios where children have crashed into a room during important video calls, a dog is barking in the background or the door bell has rung.
These are not always easy to control but all you can do is to do your best in the circumstances. Most people can relate to unexpected intruders during video calls.
2.14 – Advise all speakers to be in well-lit environment
During an offline conference with a stage, the spotlight would have been on the speakers so that you can see them clearly. The same concept applies to virtual events too.
The other reason for being in well-lit environment is to make it easier for deaf attendees to lip-read the speakers.
You might be thinking that with captions and interpreters, this is not necessary. But if the captions are not working or inaccurate, and there are no interpreters, you are then dependent on other "clues" and reading lips is one of them (though I must emphasises that it's not a solution. It is one of many clues to understand what the person is saying).
2.15 – Advise all speakers to speak clearly and use plain language
It doesn't matter if the event was online or offline, this is an important tip.
It's easy to get excited or nervous in the moment where you then talk fast and don't even give yourself time to breathe (I've been there). But the issue with that is the same as audio quality.
If the talk is not comprehensible, not only the attendees listening will not be able to understand, but it is very difficult for the captioning and interpretation to be accurate.
Take a breathe and speak smoothly.
2.16 – Encourage the use of headphones and microphones for attendees

For the same reason as the previous tips, advise all attendees to have headphones and microphones if they choose to ask questions orally instead of by typing.
Again, it is not possible to have everyone using a microphone. But the other option is to either:
use your mobile phone's hands-free kit which has a small microphone, or
at the very least, put on headphones so that the sounds does not come out of the speaker and into the internal microphone on your laptop.
2.17 – Encourage your speakers to have shareable materials for reference
We've all been there: "will you be sharing the slides?…where can I access the slides?"
Since this is almost guaranteed to happen, encourage the speakers to have materials that attendees can refer to.
This is especially useful for deaf attendees who require more information on certain things that they have not picked up during the event because it wasn't clear enough.
It is also quite helpful for certain deaf attendees to have access to the slides in advance so that they can follow along to the talk. But this also gives them a head start on the context of the talk without focusing and listening intensely (which can eventually get really tiring) to get the gist of the talk.
2.18 – Ask all attendees to write their name in full when signing up
Sure, it's fun to have different personas and nicknames, but for convenience and to make easier to track who is who (especially after the event if people want to connect with each other), it's best to keep things consistent by writing your real name in full.
2.19 – Test, test and test thoroughly
It goes without saying that you should always test that the platforms and the format of your event will work in advance, preferably with the captioning and sign language interpreters.
But like any event organisers would do, test everything as much as you can. It will not mean that you are guaranteed to not have any problems during the event, but you will limit any problems that may arise.
After that, it's time for the virtual event to start.
---
3. During the virtual event…
Now that you have planned as much as you can and the day of the virtual event has finally arrived, like any event organisers, it's all hands on deck as you ensure everything is running as smoothly as possible.
3.1 – Set expectations and inform attendees of resources available
Even if you have provided all the relevant information in the run-up of the virtual event (and if you haven't, you should), some people might forget or need reminders.
So remind all of your attendees that the videos will be captioned/interpreted and provide information or reference on how to access them.
If appropriate, provide further explanations on situations such as having access to slides, what will be available after the event, what will be available on the website, etc.
3.2 – Moderate the event to keep on top of all the tips mentioned
Like any moderators at any events, it's a busy time trying to stay on top a busy event.
Even with all the prepping done in advance, you are still dependent on technology to work smoothly and for everyone to follow the rules. But for whatever the reasons, it may not happen.
So it's up to the moderators to stay on top of all the advice mentioned above are functioning as efficiently as possible. These include:
Ensure that the audio quality is clear and high quality
Ensure the speakers are speaking clearly and in well-lit environment
Mute all attendees, apart from those who are speaking, to prevent background noises
Ensure live-captioning screens and/or sign language interpreters are clearly visible and easy to watch/read
3.3 – Consider providing live support to provide further assistance
Everyone can benefit from this too, as someone is bound to run into some kind of technical issues or have questions to ask.
It's a lot easier for event organisers to handle it via live chat than via video calls. It's also a lot easier for deaf attendees to communicate their needs via chat instead of listening out for information or being forced to use video calls.
3.4 – Have patience whilst waiting for responses from deaf attendees
This particularly for those who are dependent on sign language interpreters and/or captions.
As you can imagine, when someone is speaking, you are waiting for the captions and interpreters to relay that information to those depends on it. That means for the deaf attendees, you may experience a small lag when you are asking questions and waiting for responses.
It's not that they are ignoring you…they are waiting for the caption and interpreter to complete the questions.
3.5 – Remind attendees to "pin" videos of the interpreters
If you are using professional sign language interpreters, you will know that there are different ways of accommodating them on the screen. This will largely depend on the video platform that you are using and how the interpreter is doing the remote interpreting.
Depending on the platform, those individual screens may either appear on the bottom right-hand corner of the screen, or alongside the other attendees' screens. If it's the latter, they will not necessarily be visible to those who requires it because of the number of attendees screens on display.
The most common way to fix this issue is to "pin" the video so that it's always visible alongside whoever is speaking. If this is the case, remember to remind the attendees to do that.

3.6 – Ensure all videos of the event shared on social media are captioned
Like any event, the event organising team and attendees will be excited to share what is going on and what they have learnt on social media. Don't forget that social media videos will also be more accessible if they are captioned.
It is also a good time to inform attendees and encourage them to caption the videos if they are sharing them to ensure everyone can access them.
On top of the there are many benefits of captions, such as more engagement, more views and easier for people to follow along.
So everyone wins if you caption your social media videos.
---
4. After the event has ended…
The event has ended and things are gradually winding down. But to ensure and prolong the momentum of the event and its accessibility provisions provided, there are just a few tasks to finalise that your deaf attendees will appreciate.
4.1 – Share the relevant materials or provide info on where attendees can access them
It is so common to have attendees ask where can they access slides or they may want to watch the videos again. Wherever you are going to do it, inform your attendees of where they can access them.
As someone who has attended many virtual events, I've lost count how many times I have not heard or misheard important information, and I'd like to watch it again. Having the ability to access relevant materials afterwards is very helpful.
An easy way to have information available and shareable from one place is to repurpose the event on your website…
4. 2 – Create posts on your website about the event
This is a great opportunity to create further content to help more people to access all in one place. If you have a dedicated website for your virtual event, this is where you can include all the relevant information like embedding slides, relevant tweets, links to resources, collate all tweets, etc.
Alongside the SEO benefits and the convenience of having everything in one place, once again, you are also making it easy for deaf attendees to access important information that may have been missed during the live event.
4.3 – Ensure all videos embedded are captioned accurately
Need I repeat myself again? Well, I just thought of reminding you again to do it but also to remind of the many benefits that you will receive when you caption your videos.
4.4 – Provide the option of transcripts for all video recordings
Depending on how you want to format your post-event post (e.g. will you have everything on the one page, or will you have a page for each talk?), you will also have the options of providing transcripts which has its own unique benefit too.
It's easy to have the transcripts created where you can then copy and paste onto the site. But you have an opportunity to create a highly engaging post, that is easy to consume for everyone, including deaf attendees.
Take this very post for an example: even though there is a video and podcast available on the topic of making virtual accessible for deaf attendees, the transcript is here…but it's in a different format. It wasn't copied and pasted.
As you can see, there is a structure behind it with the help of headings, bullet points and paragraphs. But there are also images uploaded, videos embedded and links to relevant sources to add more context to the video and podcast as well as to assist you further if you want consume more information smoothly and your convenience.
You can do the same for your deaf attendees by providing amazing and structured transcripts (which will also benefit all attendees and it's great for SEO too).
4.5 – Offer all attendees the opportunity to provide feedback around accessibility
To learn and help you prepare for future virtual events, be receptive and encourage your attendees to share their feedback. Some people might not be comfortable but even a little nudge during the event and another one after the event can give you some great insights to make the process (and we can all do things better).
However, make sure you take onboard whatever feedback you have received. It is completely pointless to receive them if you are not going to take it onboard and learn from that experience.
You never know, you may learn something from your deaf attendees that (and of course, everyone else) that can benefit future attendees even more should you decide to run the virtual event again.
---
In-person events will never disappear and it has its unique values that you can't transmit online. But there is no doubt that the use of virtual events like conferences, livestreams and video calls are here to stay and will more likely be considered in the future, perhaps even alongside the in-person events.
As someone who has attended dozens of online and offline events, many of the above comes from my own personal experience of attending those online events.
But on may occasions, I share my frustrations with others who feel ignored by the event organisers, which is why I am also vocal about the topic of having video-based conversations with deaf and hard of hearing people.
Many of the points mentioned will also benefit other attendees too. So whilst thinking about accessibility for your virtual events, bear in mind that it's not just deaf attendees who can benefit from the tips below but many others will find it a more pleasant experience too.
However, if you are looking for ways to accommodate other people, like those who are blind (and you should consider it too), you are best to ask someone who knows more than me by asking your network.
In the end, your attendees are the most important people at your event. So why not make them as comfortable as possible, even if it is virtually?
---

Latest posts by Ahmed Khalifa
(see all)